These one-of-a-kind pieces are currently available for purchase in our store.
Contact us or stop by before they're gone!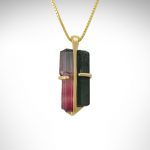 Tourmaline Crystal Pendant
Crystals of pink and green tourmaline hang in a 14Kt yellow gold pendant. Sometimes gemstones are most beautiful in their natural state!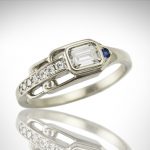 Diamond and Sapphire Ring
This Art Deco inspired ring balances an intricate open design and the clean lines of a bezel-set emerald-cut diamond. The assymetrical design is accented by a blue sapphire.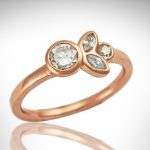 Rose Gold Diamond Ring
This 14Kt rose gold ring is designed with a bezel-set round center diamond and an asymmetrical cluster of diamonds reminiscent of a flower with leaves.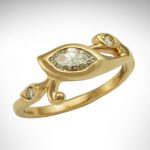 Marquise Vine Ring
This ring flows like a vine in 14Kt yellow gold with a marquise diamond in the center. Dainty and feminine, this ring would make a beautiful right hand ring or even an alternative engagement ring!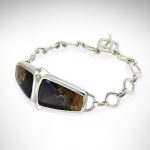 Fossilized Palm Bracelet
This sterling silver bracelet is completely hand-fabricated, and features a pair of very unique gemstones, cut from a petrified palm tree!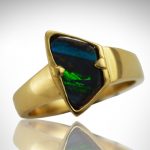 Boulder Opal Ring
The striations of flashing green and blue in this Australian opal are an example of the dramatic beauty found in nature. The 14Kt gold ring complements the geometric shape of the gemstone.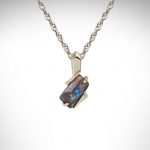 Boulder Opal Pendant
This geometric pendant features a boulder opal with interesting linear details and flashes of color. A modern design in 14Kt white gold.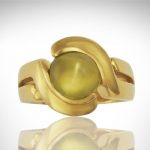 Cat's Eye Chrysoberyl Ring
The cat's eye effect of this chrysoberyl gemstone draws you in as it catches the light. Set in 14Kt gold with a curved bypass design.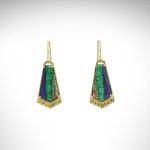 Azurite-Malachite earrings
These earrings are set in 14Kt yellow gold with Azurite-Malachite gemstones. This mineral has a rich history, used by Ancient Egyptians for everything from paint pigment to jewelry for Pharaohs!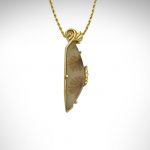 Dendritic Druzy Pendant
This gemstone has a subtle sparkle of crystals across the surface, and dendritic, or tree-like, inclusions that add a natural design element! The 14Kt gold frames and accentuates the pattern in the gem.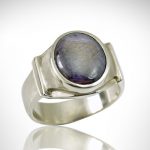 Star Sapphire Ring
This bold ring is made in 14Kt white gold with a unique finish and holds a large sapphire with intriguing texture that displays a "star" in certain lighting.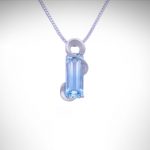 Bi-colored Aquamarine Pendant
This RARE aquamarine gemstone is a pure blue at the bottom and clear at the top, set in a 14Kt white gold pendant inspired by flowing water.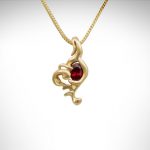 Ruby Pendant
This pendant is set with an oval Burmese ruby in 14Kt gold. The satin-finished setting was inspired by the ornate buildings of Chicago.
These one-of-a-kind pieces are currently available for purchase in our store.
If any of these pieces inspire you, contact us about a custom piece of your own!
We also sell loose diamonds and gemstones! Learn about our custom process
---
We're The Uptown Jeweler – Stop by and see us soon!